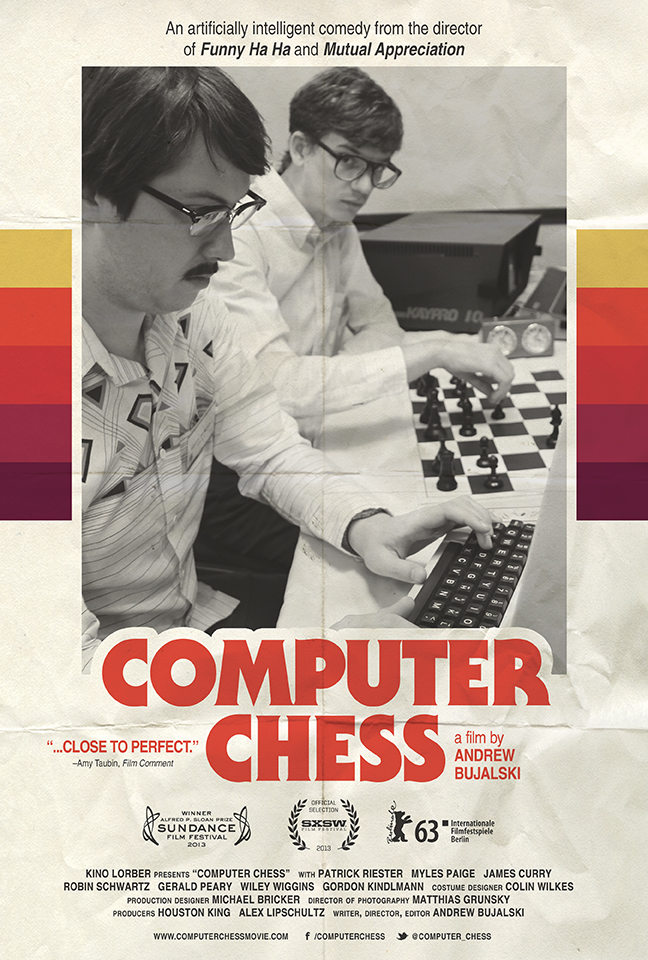 There are four major films being released by studios this week. Dreamworks is putting out "Turbo," another CG-animated fest that thinks asking Snoop Lion to voice a snail is subversive in some way. There's "Red 2," an unasked-for sequel to the least memorable "hit" film of the last few years. Warner Bros. is putting out "The Conjuring," an actually-not-bad horror film for those who want some analog scares in the vein of "The Changeling" and "The Omen," but it's far from essential. And despite looking like a practical joke, the $200 million-budgeted "R.I.P.D." is actually a real film, an action comedy preserved from 1998 that re-imagines "Men In Black" without a black person. Basically, it's a collection of movies that remind us that this is a dying industry.
But if you're one of the lucky ones, there are three really unique pictures being released this weekend that are must-sees. I'm not clear on this, but one or two might be VOD selections as well, so if you don't have an arthouse near you, you can order via cable. If not, prime your Netflix queue. Hopefully, these options are open to you. If they are, and you still opt for "Red 2," then you are casting a vote for irrelevance, for films to remain disposable pieces of junk and not diverse experiences that take you to another world, challenge your notions and defy logic. This is clearly a case of Us V. Them, and you can vote for disposability, or you can experience three of the most fascinating pictures of the year.
Nicolas Winding Refn's "Only God Forgives" seems to be the most high profile offering, his long-awaited follow-up to "Drive." I'd personally like to consult the poor, confused woman who sued the studio years ago, expecting that film to be a generic crowd-pleaser, as "Only God Forgives" makes "Drive" look like "Cars." Ryan Gosling is back, and he has fewer lines, if you can believe it, as a kickboxing coach in Thailand who also deals drugs on the side. He runs this operation with his brother (Tom Bower), a degenerate deadbeat who has a taste for savage violence and underage prostitutes. When those interests collide, the father of a dead girl doles out revenge and murders the drunken fool. Once news of this gets to Gosling, his reaction is just as simple: his brother must be avenged.
What Refn is positing in this film, which is positively Kubrickian in its fetishistic slow pace and nightmarish neon, is that revenge makes the world go round, and to ignore such a thing is denying the order of life. This outlook keeps me from embracing the picture too much, but I ask only that films be bold, different, and consistent in their ethos. And Gosling seems poised to let blood spill in the name of his brother until he learns of the reasons for his murder; he was a murderous brute, Gosling argues silently. Maybe it's not a huge loss. Of course, globe-trotting, pill-popping mom begs to differ, and when she arrives to find the truth about one of her sons, she doesn't take it well. Kirsten Scott-Thomas is a vulgar lioness in this role, fairly close to devouring Gosling whole, questioning his masculinity for not fulfilling his prophecy, for not continuing the cycle of violence. If anything, she feels like the forceful hand of the narrative, urging him in the direction of genre: don't you see you're in a movie, idiot? Kill or be killed.
"The Act Of Killing" also arrives this Friday, a more complex labyrinth of violence than the Refn film. This documentary takes us to the streets of Indonesia, where long ago there was a battle for the region's soul, and the gangsters won. Mob-sanctioned killers who participated in ethnic cleansing now walk the streets like common folk, their crimes so far in the rear view that recollection of such feels like sepia-tinged nostalgia. Never punished, never policed, they have come to feel as if they have done the right thing, that their wave of murder (many casually suggest they have killed hundreds, and it feels accurate) has been justified. Produced by Werner Herzog and Errol Morris, this fascinating doc first seems as if it's going to probe the memories of these men, searching for some sort of evidence of guilt as to explain the existence of a conscience (or lack thereof).
The curious decision the picture opts for instead is inspired by western thought: these men are going to star in a film about their exploits, playing themselves carrying out these murders to purify their land. It's only then when suddenly the rise of guilt doesn't occur, but the idea of questioning the past happens. A "private" police force who had a hand in the massacre agrees to lend real-life members of the group, but when they shoot a scene of post-violent celebration, their leader orders a stop to the filming; they wouldn't have celebrated violence so enthusiastically back then, it would have been "tasteless." "The Act Of Killing" is a mesmerizing doc, one that will haunt you long after you've left the theater, and most assuredly a must-see, a tonic to this year's onslaught of blockbusters that have consistently trivialized the idea of death.
Speaking of blockbusters, and the assumption of enjoyment, the most fun I've had at the movies all year was at "Computer Chess." Everything about this film screams "boring": it's from director Andrew Bujalski, who is often credited with inventing the mumblecore movement. It's a period piece about a group of computer nerds stuck in a low-rent motel in the 80's during a weekend seminar dedicated to designing computer code that can play chess. It's also in black and white, and filmed on seventies-era video, to reproduce the look of bargain-basement cable access. Also, this film features no familiar faces of any kind, and only one female character: all of these people are accurately non-photogenic dorks. The bully in me reacted violently to the first ten minutes of this movie… "who would pay $14 to watch these people in this situation? The indie world is terrible."
That bully, who has led me to pick fights with the likes of Mark Duplass, fortunately vanished, and I was able to experience one of the year's most delightful pictures. What's not said in "Computer Chess," which is thoroughly dedicated to its period trappings, is how these unassuming young lads (and one lady, as the event's host repeatedly, awkwardly reminds everyone) are creating the blueprint for artificial intelligence in the late nineties onto today, the building blocks of our everyday community. Not every one of these characters is a "nerd" in the Robert Carradine sense, though there's no shortage of social dysfunction. One, a heavy-set, lisping British participant, holds court over the perfect amount of hard liquor to drink when programming code. Another wanders the halls of the motel, refusing to admit to anyone he was too broke to actually book a room, and uncomfortably propositioning the lone female just so he can have somewhere to sleep. A sweaty, blustery interloper, the lone "groupie" of the weekend, knows very little about the technology on display, but has several Cold War theories as to where it all might lead, and many joints to share. Each one of these people are fascinating to observe, as they gawkily interrupt each other, start fights, and spread rumors about the military reps who are watching over their backs that never really materialize.
This is one of those weekends where you could vote with your dollars if you're in the appropriate area. The four Hollywood films don't seem like great bets for success, but who knows? It will make a difference if there are some viewers out there, however, who take a chance and vote for their dollars, vote for three of the year's most fascinating films, to break the monotony of theaters packed with the latest hot-season drivel designed to placate and numb you into submission. Please choose wisely.