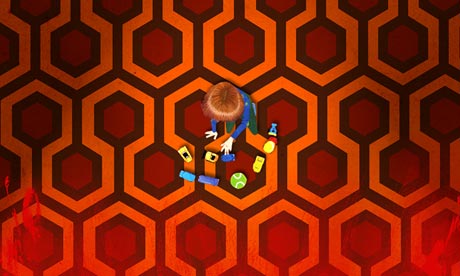 You look at a cloud, rolling slowly in the clear sky. If your head might be as clear as the dome above, you can begin to look at the white mass and see that its shape is first, say, of a boat, but just as suddenly you see that the boat was not a boat, but really a submarine, or a couple of aquatic bodies wrestling: mythical creatures that can then as easily drag you into obscure, anthropological reverie on ancient cultures and dichotomies. And then, if you happen to be happily accompanied, you ask the person next to you whether she sees the fantastic creatures too, but are astounded at her reply: she sees a banana.
Something akin to the scenario described above comes to mind when watching ROOM 237, a documentary on, well, the act of looking at clouds and guessing their shape. Except the cloud here is Kubrick's THE SHINING, and ROOM 237 is not just about what shapes Kubrick's film can take, but of the people behind these shapes/theories.
The film presents interviews with various people who have fallen under the spell of Kubrick's film and in one way or another have obsessed over its existence. One thing every person interviewed seems to share with each other is that each treats the film as a world created, a world with its own will, reason, logic, and therefore they must figure out its phenomenology, its very origin. Figuring out the meaning of the film, its code, is in a sense to figure out its origin in Kubrick's mind.
The makers of ROOM 237, in order to show this obsession, make an interesting move. The film is made up of clips from THE SHINING and other Kubrick films (plus a few clips from other non-Kubrick films such as the fantastic DEMONS), over which different characters posit their theories through voice over. The effect goes to the heart of the matter, for the voices seem to appropriate the images from Kubrick's films to themselves. There are many strange moments when the characters depicted in front of us (be it Tom Cruise from EYES WIDE SHUT, etc.) become some sort of impersonation of the narrating voice. We never see the real faces behind the voices, and are therefore treated to different perceptions of a world, where the very subject of study (THE SHINING) broken into different versions, each with its own movement, logic and reality.