What Goldfinger and Thunderball did for kids in the mid-1960s, Batman and his cinematic franchise did for kids the world over in the late 80s and 90s. He provided fairly reliable bigscreen thrills every few years, battling a new batch of baddies. Batman even had the same Bondemic of recasting both the main guy and behind-the-camera talent. In four movies you had three different Batmen and two directors, as well as a multitude of credited and uncredited screenwriters (a 1980 draft, eventually passed over, was penned by Tom Mankiewicz. Thank God they did a page-one rewrtite, as he was behind the unholy trilogy of early 70s Bondage Diamonds are Forever, Live and Let Die and Man With the Golden Gun. Before Tim Burton was hired, a director WB considered was Guy Hamilton, director of those same three. He gets a pass, though, for hitting it out of the park his first go 'round with Goldfinger).
By the time Bond came back with Pierce Brosnan in the tux (we'll miss you, Neville Sinclair), Batman was already entering its own Moonraker phase.
The silliness was bearable, acceptable even, in Batman Forever, but by Batman & Robin, the whole movie was a pigeon double-take
In true Beatles/Beach Boy fashion, Bond decided it had to outcrap this crapfest. Though it comes five years after Batman and Robin's Rubber Soul, Die Another Day became the Pet Sounds of terrible, campy, franchise-killing bloated actioneering. Or B&R is Pet Sounds and DAD is Sgt. Pepper's or B&R=Sgt. Pepper's and DAD=SMiLE? However you wanna do it, the analogy basically works with any consecutive Beach Boys/Beatles album pairing from the 1965-1967 range. The mid-late 60s camp excess was back in full force.
The 60s, 90sified
Both franchises had to regroup and take stock to see exactly where they went wrong.
Ooh! Ooh! Pick me! I know! I know!
Perhaps coincidentally, both series came back within a year of each other, completely rebooted, with new casts, new backstories, and a grittier sense of realism. Here they continue to feed off each other. Christopher Nolan, Batman's motion picture equivalent of Frank Miller, is an avowed Bond fan who has acknowledged the character's influence on his Batseries, what with real-life, CIA-influenced gadgets (including a
shoeblade
) and exotic globe-trotting (In this recent trilogy Batman/Bruce Wayne found himself in Hong Kong, the Himalayas, the ill-defined Middle East and/or subcontinental Asia, whereas the earlier four films barely saw him venture outside of Gotham). The most obvious example of Bondly influence, however, occurs in a different Nolan film, Inception, with its snowy ski climax, openly borrowed from OHMSS. (Nolan has even said explicitly for years that he'd love to do a Bond film, but he'd have to contend with the same studio that turned down Spielberg and Tarantino in the past, probably because they would have put too personal a mark on the films.)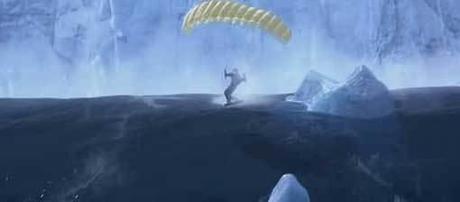 So then, can we get someone else to watch DAD with us? We'll entice them with nachos, and once we have them inside, they sign "the pact". Yes, the pact...
Oh God, the lameitude of this movie is making us use the first person plural again
This is probably a good time to talk about iconography. Batman and Bond both trade in culturally relevant images, memes and tropes, buoyed by decades of crossovers and tie-ins with all manner of media. Who, aside from possibly the Amish, doesn't recognize the Bat symbol, the pointed ears, the gun-barrel POV opening or the Vic Flick guitar strumming and orchestral blasts of the James Bond theme? By popularly held industry legend, a Batman teaser trailer was released before any footage was shot for the 1989 film and people reportedly bought theater tickets just to see the symbol and the name up onscreen before walking out on the feature film.
Trading on well-known images may be good business, but counting on this tactic is a double-edged sword. If you deliver the promise of quality in the form of an identifiable logo or hummable tune, you can only go so far before finding the limits of brand recognition, otherwise you get meme-culture-- something that manipulates your sense of nostalgia to elicit a powerful, yet fleeting sense of joy, no matter if your associations are positive or negative. So, whether it be a good, old-fashioned rickrolling, a gratuitous Popples reference, or this, you'll probably respond favorably, as long as you're in on the reference, but the result will almost invariably have a micro shelf-life.
Regarding the Batman/Bond films, they have some of the most recognizable characters and images in all pop culture. As far as Batman goes, the Joel Schumacher films famously suffered a decrease in quality as they became toyetic, and possibly also coining a phrase in the process (even by 90s corporate culture buzzword standards this word is lamer than anything in Die Another Day. Well, lamer than 83% of Die Another Day). While Batman & Robin's campiness is often compared to the Adam West incarnation of the character, none of the fondness that is lavished upon that show greeted this Schwarzenegger icetastrophe.
This cover image cost
Aficionado
20,000
subscriptions
As for Bond, there is a case study in the aforementioned Never Say Never Again. It was a remake of the highest-grossing Bond film Thunderball (until Skyfall recently dethroned it), bringing back everyone's favorite 007, Sean Connery, who is outfitted by Q (not Desmond Llewelyn) and aided by Felix Leiter against the nefarious Blofeld-led SPECTRE – all familiar territory for Bondaphiles, especially for the then-20-and-30-somethings who had grown up with 60s Bond. All the right elements were in place, except they weren't. Right from the beginning of the film I'm against it. No gun-barrel and no Bond theme start the fiasco off with two strikes against it. The opening theme, a step or four below that of the same year's "All Time High" from Octopussy (the lamest of the official Bond themes, in my opinion) set to an actionless cold-open makes you pine for the blissful popcandy of Maurice Binder's silhouetted naked women doing acrobatics in the midst of a laser light show. In even the worst Bond movies, these openings are a pleasure, like getting a text-laden music video at the beginning of a two-hour snoozefest (this is the case with A View to A Kill, chock full of glow-in-the-dark, PPK-armed women, skiing to Duran Duran's John Barry-enhanced titular rock song). This wouldn't be a huge hurdle, but not being an official Eon Production, the movie seems to know it's at a disadvantage, despite scoring the coup of getting Connery back after publicly stating he'd

never

return to the role.
Even having Bond Prime, without the familiar iconography it doesn't have the confidence to see it through. It repeatedly goes out of its way to convince you this
is
James Bond, the one you used to know twenty years ago, but it never quite sticks. Legally, it could
only
be a Thunderball remake, without any of the Bond universe's signifiers. Even the official Bond entries that deviate from the formula feel more like Bond movies because certain established elements allow them greater flexibility. OHMSS is more like a jazz take of a standard tune, whereas Never Say Never Again is more or less a straight, uninspired bar-band cover.
The gun-barrel sequence, the theme, the opening credit sequence, the pre-credit intro – these are all elements that usually appear at the beginning of the film, firmly setting you in the 007 world. You know what it's like and you've been there before. If you're a fan, they've got you hooked already. From that point, the remaining two hours can go off in almost any direction, as long as it has this grounding. Die Another Die went completely off the rails, while Casino Royale several years later, subverted some of these elements even further (most notably in the gun-barrel shot and saving the Bond theme until the very end of the film), but they were still there.
Had they been removed altogether, all those people who initially complained about a blond Bond certainly would have taken to the streets to dump all of Parliament's Early Grey into the Thames (or however it is that Brits revolt). By including these signifiers, though, the film was granted carte blanche to rewrite some of the rules audiences had become accustomed to over the past forty-plus years.
In rewriting these rules, over the course of three movies, both franchise's characters struggled to "get back to basics" and show the essence of who these people are, why they have their own respective pathologies, and how the loss of loved ones turned them into living machines who try to mask their emotions and focus on their work, whether protecting Gotham or protecting the Queen (and by extension, good and order throughout the free world). In accompanying them on their journeys, the style in both incarnations has resolved itself from early-00s Greengrassian shakycam excitement to a more mature, assured composure, where you can see every punch thrown and feel the weight of a struggle, as if these characters are finally coming back into their own as crusaders. This goes for the fights between Bane and Batman as well as those between Bond and Patrice (the hitman), with the three Macau bodyguards, and with Silva's henchmen at the climax of the film, played out mostly in full-body shots.
While Nolan had Bond in mind on his Batfilms, Sam Mendes admitted to being influenced by The Dark Knight in his approach to big-budget action with Skyfall, but they somehow both wound up in the same place, as if Mendes anticipated where Batman's trajectory would take him after TDK. Similarly, both of these trilogies (so I'm not confusing non-nerds: Batman Begins, The Dark Knight, The Dark Knight Rises for Bats and Casino Royale, Quantum of Solace and Skyfall for Bond) while ostensibly closing the book on one chapter of a character's career, notably open up the possibility for new directions, or, more likely, old directions dressed up as new. With the revelation in the Dark Knight Rises of Joseph Gordon-Levitt's character we see the opportunity that affords Warner Brothers in continuing the story they've already started writing back in '05 (and with rumours abound about his inclusion in a Justice League movie or in another standalone Batman series, with the release date for a relaunch already being bandied about, it seems like the Batman myth will be back in theaters before your kids grow out if their Christian Bale underoos). With this three-part "real world" retelling of the Dark Knight's origin and peaceful retirement, they can finally get back to just making another string of straight-up Batman movies.
Likewise, after Casino Royale started this new cycle, we were promised that Quantum of Solace would cap a diptych, allowing for the series to continue unabated thereafter with certain foundations in place. That didn't exactly happen, as Skyfall came along to have a last hurrah with the "new" set of rules before saying at the very end, before credits roll "OK, now we can make a Bond movie." (Quantum was teased to be the new evil organization for the foreseeable future and while Skyfall didn't exactly deliver on that front, pattern-seekers will note that SPECTRE, central to Dr. No and FRWL, isn't even mentioned in Goldfinger, yet very present in the next several. Remember what I said about Phillip Glass earlier?) With Bond's newfound sense of purpose and vigor, along with the succession of a new M, the reintroduction of Q and Moneypenny, and the heroic demolition of the Goldfinger-era Aston Martin DB5, it seems as if he's gotten this whole "reboot" thing out of his system as well and can get back to business as usual.

James Bond Will Return.
On the plus side, Billy Connolly's looking damn good for his age.
Oh, and since I brought up the Beach Boys more than once in this series and I've only really picked on Die Another Day, here's a clip from A View To a Kill to show you how bad it can get:

Editor's Note: It was incorrectly stated in the last installment that my friend had never seen a James Bond movie in full. He had in fact seen Goldeneye.
Also, it turns out Shirley Bassey was the Prince of the 60s, not the other way around.