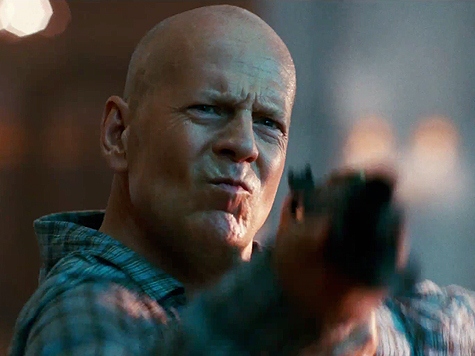 I don't like to subscribe to the idea of movies being some broad canvas, the tapestry of cinema a never-ending strip of imagination and magic/majesty/Tranya. It's nice for poetry, and cute for the sake of generic appreciation, but each film stands alone, thematically and talent-wise. But to ignore that some film experiences bleed together is close to impossible, which is why I recently felt an ideological whiplash a couple of weeks ago within a two day period.
One of the films I sat through was "
A Good Day To Die Hard
," the optimistic and legacy-tinted title for the fifth in the "Die Hard" film series. Vacationing cop John McClane used to be a character, funny, nervous, self-deprecating. The fifth time around, you wonder if Bruce Willis is now simply playing himself: his McClane dives face-first into action as soon as a bomb goes off early during the film's breathlessly short runtime, commandeering a truck and driving it literally straight into the chaos without understanding what he's pursuing or why. Once perceptive and nervy, he's now stupid and bold, not a bad combination to have when you're also invincible. There's a good thirty or so set moments in this film where the fiftysomething McClane should be dead, or at least severely injured. But Bruce Willis, global superstar, never dies.
I had read Willis' anti-gun control opinions right before the film, and given how flimsy the picture tends to be, it's impossible not to think of them. Our introduction to McClane in this film is seeing him at the gun range, listlessly dispensing with some exposition regarding his lost son (Jai Courtney, ostensibly bred to play Bruce Willis' son one day, and probably nothing else). Moore languishes over the bullet holes and the gunshots, but has almost no interest in Willis looking awake as he discusses his distant son.