Film fans have very carefully over the years turned one conversation into two, both about very different topics. One is, "What are the year's best and most interesting movies?" The other, very different and more politicized question is, "What films are more likely to be Oscar contenders?" The latter suggests that, yes, the Academy tend to lean towards predictability more often than not. Which is why I've devised and revised a guide over the years as to what the Academy Awards committee looks for in regards to acting. These factors stand out, which I will grant with their own alphabetical assignment.
A - This denotes a performance based on a real character. Certain audience members find it easier to qualify a performance as good or bad if they have a very specific rubric to apply, usually based on leftover footage of the subject. The Academy cares little for the fact that these types of performances sometimes lean towards mimicry, or that the corresponding movies often aren't very good, or even that the person being imitated is someone they would never know.
EX. Geoffrey Rush, "Shine," Helen Mirren, "The Queen"
B - This designation is reserved for characters who are suffering and/or dying in a prolonged, difficult-to-watch manner, or suffering from a debilitating condition or handicap (see: Full Retard). It is also reserved for those struggling with some sort of social malady, most often homosexuality or racism. The Oscars rarely like gays and minorities unless they suffer.
EX. Daniel Day-Lewis, "My Left Foot," Sean Penn, "I Am Sam," Javier Bardem, "Before Night Falls," Hilary Swank, "Boys Don't Cry."
C - If the role has ANY association with World War II. Nazis, move to the front of the line.
EX: Ralph Fiennes, "Schindler's List," Roberto Benigni, "Life Is Beautiful."
D - If someone is nominated and the discussion is not around the performance or the film, but the performer behind it. Actors who have gone years without a nomination, or who have triumphed over some sort of First Class adversity, usually contribute to compelling headlines, which often catch the eye of voters. This also applies for non-actors suddenly shifted into the spotlight, or show business veterans who the industry deems "due" an Academy Award for career recognition.
EX. Anna Paquin, only ten when she won the award for "The Piano." Christopher Plummer, never nominated before "The Last Station."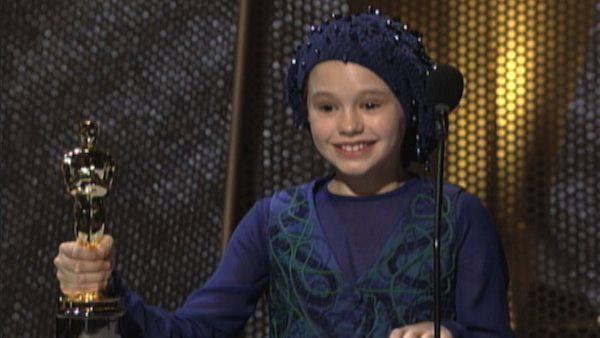 E - This is reserved for cases in which the performance itself isn't exactly thrilling, but benefits from exposure due to people rooting for the film. As an example, the Oscars have a long history of nominating a cast member from a well-liked movie so the picture can be recognized in as many categories as possible.
EX. Ian McKellan, "The Lord of the Rings," Helena Bonham Carter, "The King's Speech," Berenice Bejo, "The Artist"
F - They like you, they really really like you. This is reserved either for performers who seem to annually draw nominations simply for tying their shoes, or big stars who generate goodwill on behalf of the industry. The political choice, sometimes known as the You're Having A Good Year nomination.
EX. Meryl Streep, George Clooney, etc. Also, Robert Downey Jr. for "Tropic Thunder" in the year in which he also played "Iron Man."
G - Sex! More often for women other than men, but a nude scene can earn talk about how an actor is being "brave." But it cannot be titillating, and the actor cannot appear to be enjoying themselves. Also, if a performer is recognized for subverting their own sexuality in some specific way. There is overlap with B.
EX. Jaye Davidson, "The Crying Game," Kate Winslet, "The Reader"
H - Mostly reserved for supporting actors, but this letter is used to recognize flat-out villains. Bad guys usually have more morally-complex stories and greater opportunities for an extroverted, outsized, attention-getting performance that steals scenes from others.
EX. Heath Ledger, "The Dark Knight," Al Pacino, "Dick Tracy," Tommy Lee Jones, "The Fugitive."
Handicapping this year's potential nominees:
DANIEL DAY-LEWIS, LINCOLN - A, F
Day-Lewis is considered acting royalty, and he's playing a beloved President. You really don't get more Oscar-y than that, to the point where the award has been wrapped between his Presidential, shoe-making fingers since the role was announced. It's up to everyone else to pry it away from him.
JOAQUIN PHOENIX, THE MASTER - B, C, D
Phoenix recently spoke out about the Oscar campaigning process, which along with a yearlong departure from acting to document "I'm Still Here" effectively makes him a person of interest. It's simply gravy that a brief scene reveals him to have fought in the Great War, and that the film's suggestion is that it left him half-retarded.
JOHN HAWKES, THE SESSIONS - A, B, D, G
It is a MAJOR Oscar score when an actor can stumble upon a subject both real and tragic, as Hawkes did as his handicapped onscreen avatar in "The Sessions," the late writer who also once appeared in an Oscar-winning short film. Hawkes is an extremely well-liked character actor in Hollywood who worked his way up to critically-acclaimed, and now finally leading-man, status. The unexpected bonus is that the film deals with the character's desire to lose his virginity, leading to "The Sessions" spotlighting overly-frank onscreen discussions and depictions of sex that are sterile, innocent, and wholly within the wheelhouse of the Academy bluehairs.
DENZEL WASHINGTON, FLIGHT - B, F
Two-time winner Denzel has more than his fair share of supporters in Hollywood, so anytime he wears a serious face in a half-decent movie, he'll earn Oscar talk. This isn't one of his better roles, but it represents a high degree of difficulty given the character's debilitating addiction to drugs and alcohol. Great actors playing addiction puts a sexy face on a troubling subject, which always excites voters.
HUGH JACKMAN, LES MISERABLES - D, E, F
Jackman, a leading man for a consistent decade now, has yet to receive a nomination. Part of that has to do with the quality of work, though few would doubt he was superb in the otherwise-ignored "The Fountain." Some of those people, who once scoffed at that film's pretension, could still be in the Academy. The others, who understand the politics behind a Jackman nomination (the industry loved his hosting gig at the Oscars a couple of years ago) would happily endorse him, as he's considered one of the industry's good guys, an action hero who can sing, dance, emcee and spout adamantium claws. Also, he's in "Les Mis."
BILL MURRAY, HYDE PARK ON HUDSON - A, C, F
Fading fast from the race, it's likely Murray and company pressed those Oscar buttons a bit too hard this time. A war-time President certainly sounds like exciting awards fodder. But the fact that he's played by a guy Hollywood LOVES, and who has become an annual fixture in Oscar prognostications as if any former "SNL" cast members are owed Academy recognition, and it just seems a bit excessive.
ANTHONY HOPKINS, HITCHCOCK - A, F
Hopkins is acting royalty, and playing one of the all-time great filmmakers seems like a nice play for awards attention. But I'm still waiting on more advanced word before I bump him up in the rankings. He's probably great, but Hopkins is one of those actors for whom greatness has become an expectation, not a surprise, and it's probably cost him a second Oscar somewhere down the line.
JAMIE FOXX, DJANGO UNCHAINED - B, E
Foxx overcame "In Living Color" to earn two nominations, and one win, in a previous year ("Ray" and "Collateral"), and for that, he'll always be a contender. But he's done a lot of forgettable work since then, so it's not acknowledged that he's one of Hollywood's few justifiable Oscar winners. He's also playing a slave, which means his race is in play, but it's a decidedly non-tragic representation that may seem unfamiliar (and scary!) to some voters.
RICHARD GERE, ARBITRAGE - D, F
The role, and movie, are certainly nothing special, a 90's-flavored potboiler where Gere plays yet another upper-class douchebag. But would you believe Gere has never been nominated for an Oscar? That alone makes good copy, as Gere is always been considered a reliable leading men who often allows supporting players to reliably grab the spotlight. The amount of "Finally!" headlines his nomination would generate is beyond quantifying.
JENNIFER LAWRENCE, THE SILVER LININGS PLAYBOOK - B, E, F
Coming off an Oscar nomination for "Winter's Bone," the young Lawrence is extremely well-liked within the industry and is garnering the most attention among the cast of one of the more likely Best Picture frontrunners. So who cares if she's playing Juliette Lewis circa 1995? She gets to be both attractive and mentally-damaged, which the more patriarchal members of the Academy just loooove. And even though it was a terrible film, the widespread public adoration for "The Hunger Games" led to first-half talk that she might be recognized for that movie in the Oscar race. Never underestimate someone attached to two lucrative franchises ("The Hunger Games," "X-Men").
QUVENZHANE WALLIS, BEASTS OF THE SOUTHERN WILD - D
Aw, it's post-Katrina New Orleans (liberal guilt) but she's so adorable (cheap seats) and black (liberal guilt again)! She would be the youngest winner of the prize, and while the film has supporters, it also has some seriously nagging detractors, suggesting the only way they can agree on anything is by praising the little girl at the center of the picture.
MARION COTTILARD, RUST AND BONE -B, G
Marion, a previous winner, also benefits from a tenuous connection to the second biggest film of the year, "The Dark Knight Rises." Here, she plays a woman with no legs, but she also faces her character's sexual challenges head-on. Hollywood wants to make sex look unenjoyable, but they'll totally root for it if it's experienced by the handicapped.
EMMANUELLE RIVA, AMOUR - B, D, G
She's freaking dying, Academy! Give her the Oscar! Riva is fantastic as an expiring elderly woman in Michael Haneke's confrontational film, and it's tough to watch for anyone who has ever lost someone to Alzheimer's. And if there's anything the Academy loves, it's stuff that's hard to watch (see: Tracy Jordan). Riva's also a first-timer in the Oscar race, giving her a freshness not shared by some of the other candidates. And hey, hard-to-watch nude scene alert!
KEIRA KNIGHTLEY, ANNA KARENINA - E
A little reluctance plays into this nomination, as it's hard to shake the fact that Knightley and company have done this sort of thing before. Of course, one could argue what's keeping her from winning is the same thing that keeps getting her nominated - at such a young age, this ain't her first rodeo.
HELEN MIRREN, HITCHCOCK - A, F
When Mirren walks onto the Oscars scene, she walks onto it LIKE A BOSS. However, in this case Mirren could be overshadowed by co-star Hopkins, as "Hitchcock" is seen as something of a showcase piece for him. There's also the suggestion that an actor of Mirren's power is wasted in the role of the emotionally-abused wife in the shadow of a male legend.
NAOMI WATTS, THE IMPOSSIBLE - E
Most voters probably haven't seen it yet, and among them, there could be the suspicion that this is a genre thing. So people need to, one, see the movie, and two, forget that Watts is so good all the time that most voters ignore it. This isn't seen as much of a performance film, though, but if it breaks through, she'll be the most likely cast member to earn recognition.
MARY ELIZABETH WINSTEAD, SMASHED - B, D
Role to
Hollywood
glamour? Don't wear makeup, and pick up an addiction. So it goes for Winstead, who takes on alcoholism in this indie. Few people expected Winstead, a geek favorite for roles in "The Thing," "Scott Pilgrim Vs. The World" and "Live Free Or Die Hard," to start trying some serious acting, but here she is, a possible career revival that could lead to… more comic book roles, if the rumors about the "Captain
America
" sequel are true. Unfortunately, the smallness of this movie could hold her back, as not only does she share most of her scenes with Aaron Paul and Nick Offerman (very good, but associated with smaller screens) but the picture barely limps to the eighty minute mark. Perhaps if they set it during World War II…
ANN DOWD, COMPLIANCE - D, H
People who have seen "Compliance" absolutely HATE the character played by never-nominated Dowd, an unthinking restaurant manager who forces a girl to undergo an extended psychologically-abusive battery of assignments by order of a fake cop on the other end of the phone line. So the relatively unassuming Dowd actually comes across as quite memorable in the film, despite not being an extroverted character, and very much a believably absent-minded professional. The fact that you couldn't pick her out in a crowd is a strength in a crowded field like this. The fact that no one has seen the movie is a decided negative.
MERYL STREEP, HOPE SPRINGS - F, G
No one liked this movie, and those who did quickly forgot about it. But never underestimate Meryl Streep.
PHILIP SEYMOUR HOFFMAN, THE MASTER - A, C, F, H
A mortal lock, even if the qualities that make this performance more obviously Oscar-friendly seem mercurial. How much of Lancaster Dodd is based on L. Ron Hubbard? How much of this film takes place during World War II? And is Dodd really a villain? Hoffman's got one Oscar on his mantle, and most expect he'll have another couple more one day. Also, Best Supporting Actor is the ONE category where you can't win without an incredible performance, and guess what? Here's one.
ROBERT DE NIRO, THE SILVER LININGS PLAYBOOK - B, D, F
DeNiro's got the perfect double whammy - some still consider him an Oscar perennial, and others think he's due, given that it's been more than twenty years since his last nomination. It doesn't hurt to remind an entire generation that this guy can act. His performance here is a gently-realized depiction of a long-suffering, undiagnosed OCD sufferer, meaning he gets to play a disease in a big Oscar movie, a golden opportunity. DeNiro's got two of these awards already, but most rightly believe he's the best thing about this probable Best Picture nominee.
TOMMY LEE JONES, LINCOLN - A, E
Another former winner, Jones is playing backup to DDL in the Oscar machine that is "Lincoln." Jones, who won for the silly "The Fugitive," may rightly believe this sort of thing is beneath him and won't campaign, but he's one of the few actors that could pull off such a move and still be considered an industry fave.
LEONARDO DICAPRIO, DJANGO UNCHAINED - F, H
The whole "Oscar nominated leading man" thing didn't work for DiCaprio, so an outsized villain role was just what the doctor ordered. If "Django" is recognized by the Academy, his is the most likely performance to break through. DiCaprio keeps getting nominated for similar roles - alpha male toughies. The voters will appreciate the change-of-pace.
MATTHEW MCCONAUGHEY, MAGIC MIKE - D, G, H
There was a point when McConaughey was considered one of the top leading men in Hollywood, but also something of a party-boy punchline who shied away from heavyweight acting. But as the distorted mirror image to the title character in Steven Soderbergh's unlikely blockbuster, he turned heads, in a way which validates his recent experimental phase that saw him give excellent performances in this year's "Killer Joe" and "Bernie" as well. His first nomination would be an acknowledgement of a career arc, and voters eat that up.
HAL HOLBROOK, THE PROMISED LAND - D
The nice way of saying this is the bullshit way -- Holbrook got an "almost dead" nomination for only a few minutes in "Into The Wild," his first ever. Five years later, and the guy's still around. Another "almost dead" nod is certainly a possibility, though no one has seen this yet.
RUSSELL CROWE, LES MISERABLES - E, H
Inspector Javert is a role tailor-made for Oscar consideration, and if "Miserables" scores nods in a bevy of categories, Crowe could be whisked into the top five. The voters know history -- Crowe's Oscar-winning performance in "Gladiator" is probably the weakest of an incredible run of early-aught turns, some of which were never once noticed by the Academy. Everyone knows the guy's got chops, and now he gets to sing. If Crowe is great in the role, people will notice. If he's not, it's certainly still possible he'll be nominated.
ALAN ARKIN, ARGO - E, F
"Argo" is a likely Best Picture nominee, but the performances are mostly functional. If anyone is noticed, it would be former winner Arkin, who is playing a savvy Hollywood producer, and if there's anything last year proved, it's that Hollywood loves to honor it's past. Complicating matters is the fact that, in a riveting true story, Arkin's character is actually the biggest completely fictional element.
ALBERT BROOKS, THIS IS FORTY - D, F
Also known as the Make-Em-Up. Brooks seemed like a frontrunner to win the Oscar last year, having grabbed a slew of critics awards for "Drive" until the Academy shut him out completely. He could be back as the standout performance in this film, though, again, no one's seen it. Brooks is loved within the industry, however, and even critics of "Drive" acknowledge Brooks' lack of recognition seemed like an oversight.
IAN MCKELLAN, THE HOBBIT - E
Christ, this shit again.
ANNE HATHAWAY, LES MISERABLES - B, E, F
Hathaway's character is dying of consumption, which is a plus. But she steps out of the narrative for a long time after the first act, which is a minus. But there's another plus, that being Hathaway as someone the Academy adores, enough that she was able to deflect most of the criticism from her hosting gig. Also, Warner Bros. has a well-meaning Best Actress campaign in place for her in "The Dark Knight Rises," which won't hurt.
AMY ADAMS, THE MASTER - C, E, G, H
Again, the usual Oscar buttons are being pressed her, but in an unusual way. She has an off-putting nude scene, and another troubling sexual moment soon afterwards. Her relationship with Dodd is purposely unclear, leading some to speculate she's playing his daughter. And she may or may not be a villain in this film, but Jesus Christ is she terrifying.
SALLY FIELD, LINCOLN - A, E
Field won thirty years ago, and most seem to forget she's actually a two-time winner. Most would also assume that was some sort of typo, as Field, a legendary ham, seems to have conned her way into being credited as Acting Royalty. No matter -- as long as she's not awful (not a sure bet), she'll be riding the "Lincoln" nomination wave.
HELEN HUNT, THE SURROGATE - A, G
Bumping her to supporting reads like category fraud, but it also calls attention as to how stupid it is to structure and divide acting performances as if they were dinner plates. So whatever -- Hunt makes the "brave" move of being nude a whole bunch in this film, which is compounded by her being based on a real person, even if it's someone for whom the voting bloc would be unfamiliar.
ANNETTE BENING, IMOGENE - B, F
That fifth spot seems like a tough one in this category, though Bening quite literally is Movie Royalty, having been married to Warren Beatty for years. Here, she gets to booze it up and ham her way through this film, which just might be enough to get that nod.
MAGGIE SMITH, BEST EXOTIC MARIGOLD HOTEL - F
The great Dame has yet to win, but she's been so prolific, even in her older years, that voters are very likely to bow. Now, will they remember this film, which was a breakout hit in the spring? Hard to tell.
JACKI WEAVER, THE SILVER LININGS PLAYBOOK - E
Weaver has about twenty lines in this film, and half of them are incidental filler. But if people like the picture, she could grab a nomination simply for reacting to the mental instability of Bradley Cooper, Jennifer Lawrence and Robert DeNiro. Nice work if you can get it.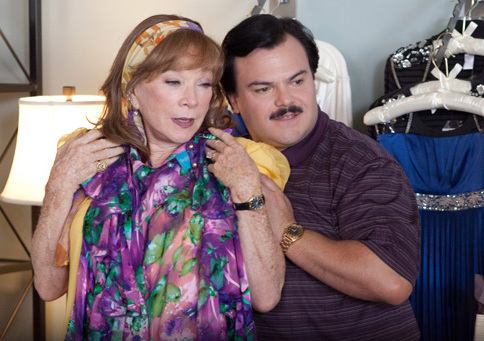 SHIRLEY MCCLAINE, BERNIE - A, F
Roadside Attractions is going to campaign for her, as they should. But she's certainly overshadowed by the career-best work from Jack Black (seriously!) and the fact that her character is mostly absent from the second half of the film. Given that this is such a small picture, those odds might be insurmountable.
ALICIA VIKANDER, ANNA KARENINA - D
"Who is she?" will read the narrative. And she's good, but there's not much to her character, and not a lot of love for this movie. Perhaps she should have played her character with a hook for a hand.
KERRY WASHINGTON, DJANGO UNCHAINED - B, E
If the picture is a huge favorite amongst the Academy, they'll reach and pick on her. But all signs say she's not going to have a role big enough for the final five.